Oh hello, we're MuseumBums and we spent Valentines Day at Museum of Classical Archaeology spreading Greek Love. We celebrate bums on statues, in paintings, in print, and pretty much anywhere else in the cultural realm!
We love the Museum of Classical Archaeology (MOCA) because there are SO MANY SEXY BUMS in a nice bijou museum. When we aren't advocating on behalf of the behind, we are working to support LGBTQ issues and making sure LGBTQ stories are being told in museums, galleries and heritage sites.
On Valentine's Day 2020, the Museum of Classical Archaeology worked with MuseumBums to produce an alternative event, to celebrate LGBTQ History Month but with a fun twist. Entitled Greek Love, we looked at bi-sexual gods, the lack of female visibility, trans-representation in the form of the Emperor Elagabalus' trans expression, and had frank discussions about safe sex. With a specially designed trail, bum sculpting and poetry writing activities, the evening offered something special. Our objective was to put on something a little bit different for the discerning Valentine's culture vulture during LGBTQ+ History Month, while celebrating the collections at Museum of Classical Archaeology and the stories we can share from them.
MuseumBums, amongst other things, is researching how many bums are on display in museums as part of our #BigMuseumBumCount. In 2019, there was a media flurry when it was discovered that the Museum of Classical Archaeology topped the leaderboard! Since then, we've looked for ways to celebrate the magnificent bums on display in the magnificent museum.
With Greek Love, we wanted to approach the collection in a fun and interesting way. We wanted to celebrate the glorious glutes in the museum but say something more than just "LOOK AT THE BUMS!" To add extra relevance to the event, we wanted to explore and promote safe sexual practices so got in touch with sexual health charity, the Terrence Higgins Trust, who sent though some materials. From this we were pleased to be able to include a volunteer-led queer safe sex drop-in session right in the middle of the gallery.
The MuseumBums team worked with the staff at the Museum of Classical Archaeology to put together the event. The Museum has been doing great LGBTQ+ work for a while now, from the Queer Antiquities trail, hosting the Bridging Binaries LGBTQ+ volunteer-led tours and taking part in Museum Remix. We were able to build on those existing relationships and partnerships, because some of these volunteers were keen to be involved in the Greek Love event too.
The event took place throughout the museum, encouraging visitors to see the collections through a new lens. The laughter and noise throughout the building suggests this was a success! At key locations in the Museum, we had special spotlight talks which were repeated through the evening. The aim was to offer stimulating information in an intimate and engaging way through short, ten-minute bursts of individuals speaking. Curator Susanne examined Sappho and the lack of evidence for female desires from the ancient world, Luis (a volunteer who participated in Museum Remix but who also delivers Bridging Binaries LGBTQ+ tours at MOCA) spoke about the Emperor Elagabalus and how they could present trans stories in the ancient world, and Mark and Jack from MuseumBums explored Apollo as a queer icon for the ages right in front of the three 'bitchy' Apollos – so-called because they look like they are Mean Girl-ing the rest of the gallery…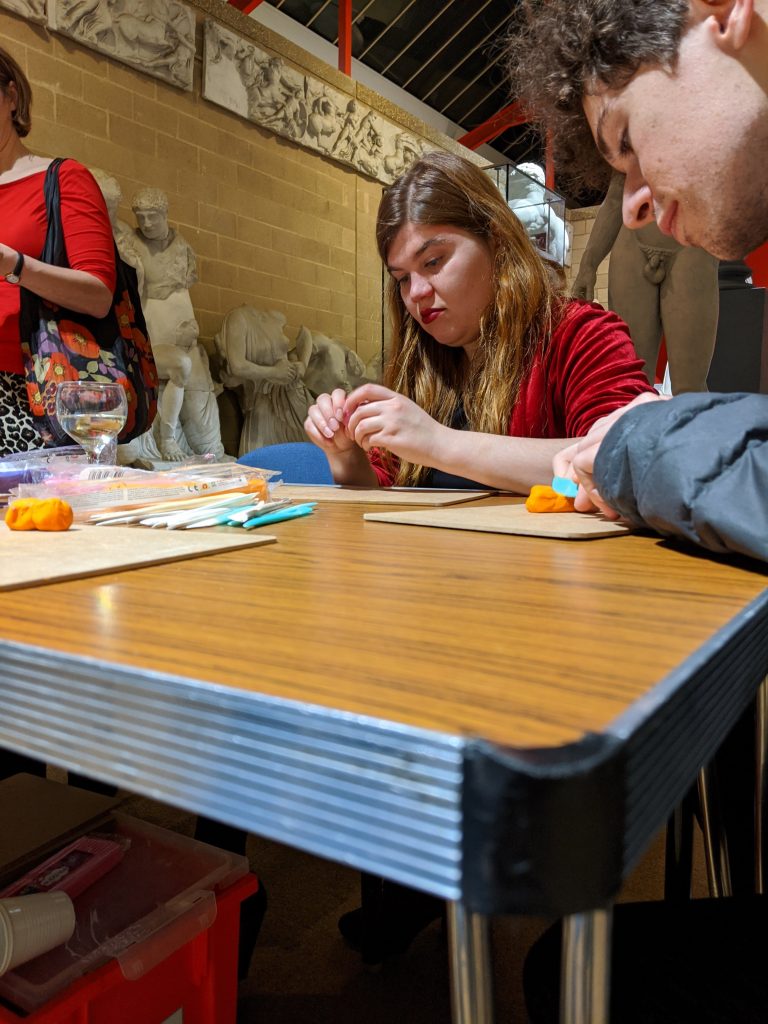 We didn't know how successful spotlight talks would be, and we knew we might have to hustle to encourage visitors to stop and listen to us – but in fact, visitors were highly engaged and the talks were the most mentioned part of the evening in the feedback forms. To some extent, the talks were the least planned part of the evening – we relied on our own gift of the gab to get people's attention. But we didn't sit back on our laurels in the planning process, even though co-curating an event from afar proved a challenge. We created a bespoke trail playing to our MuseumBums strengths: bums, of course!
The trails helped us lay out MuseumBums' mission: to actively look at the statues, in this case, in a way that is active, desirous, humorous and fun; where the visitor finds their favourite LGBTQ bum in the museum, and matches the pose for a photo. Then getting a telescope view (by rolling up the trail and looking through it!) to appreciate the artistry. Trailers were invited to describe the bum and get their partner to blindly sketch it. Finally there was a task to find the LGBTQ lovers on display in the museum (and enjoy their bums). Those who proved they'd completed the whole trail were awarded with chocolate treats!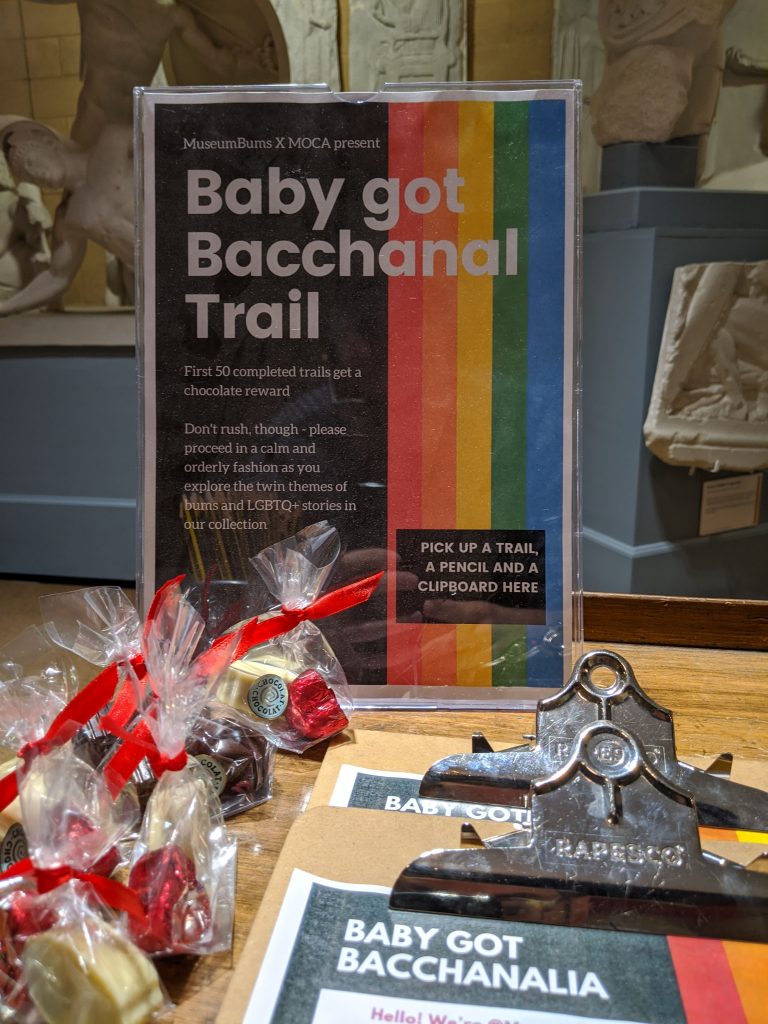 In addition, we and the MOCA team wanted to add variety with some hands-on activities which event attendees could dip in to as they saw fit. We focused on creating fun opportunities to allow the creative juices to flow! We invited visitors to sit down and sculpt their own desirable body parts out of plasticine. Of course, we encouraged the moulding of peachy behinds, as is our wont, but we weren't surprised to see a wide range of corporeal inspiration drawn from the surrounding classical bodies, in myriad rainbow colours. We also offered a Sappho poetry-writing activity, which gave visitors an opportunity to engage with the famous poetess while exploring their own desires in and around her fragmentary surviving words.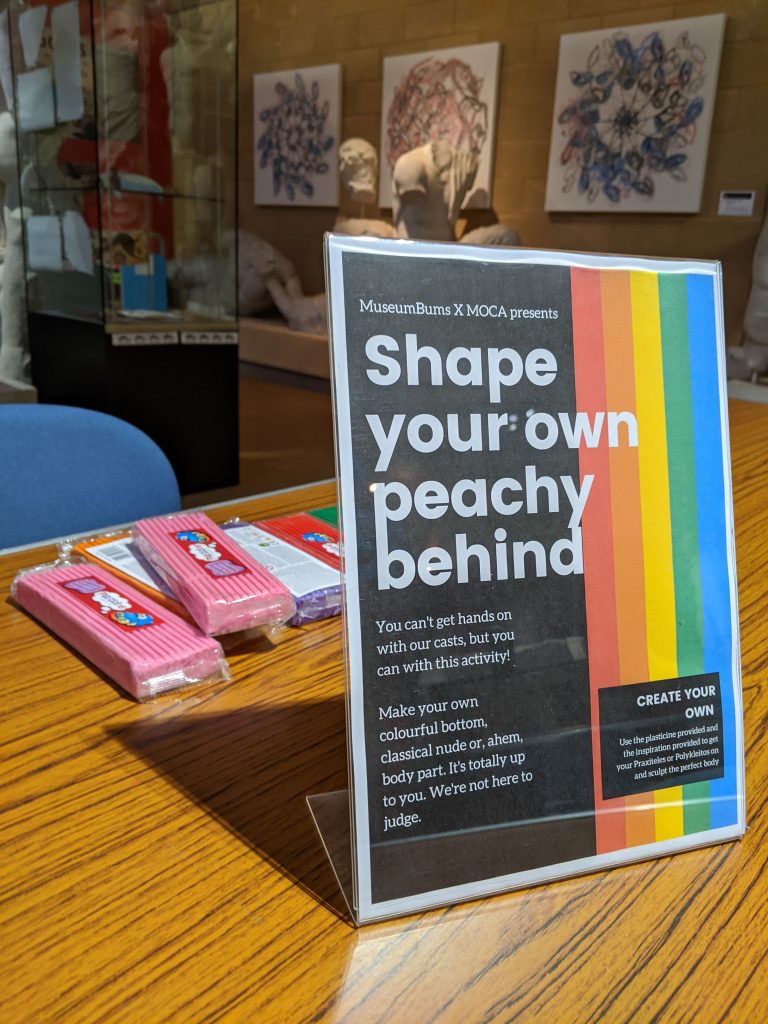 We held the event over two hours in the evening, pitched to fit after work but before evening meal reservations (what with it being a Friday evening and Valentine's Day) which was a good plan – there were definitely some visitors in their fancy clothes ready to make a night of it after!
Hearing "YES! Apollo! BI-CON!" (bisexual icon) told us everything we needed to know. Seeing oneself and ones' experiences reflected in museum objects is a powerful experience, especially when those objects represent thousands of years of culture. This focus on representation, on showing the multitudes of stories that museums can tell is something that we will take forward to future projects.
We learned that sex sells. The museum gained new visitors who told us they would be keen to visit again; and we both gained experience in partnership working. In terms of personal career goals, the event showed us that MuseumBums can be more than an online experience; we can host events in the real world and people actually turn up! Jack was able to develop trail-writing skills for broad audiences (he's used to working with kids). Mark gained confidence in public-speaking (he's normally poking a computer in an archives basement) and grew his professional network. We would definitely like to work in partnership with MoCA again, with other museums, and put on more real-life events too.
It was a great night, full of fun! (and wine!) And we love working with the MoCA team.
What our visitors thought:
It was really different to visiting the museum at regular times. It was really fun as well as educational
Good talks, fun activities, enthusiastic volunteers
Really well structured, good talks, great volunteers + staff
During the COVID-19 lockdown while people can't get to museums we've changed our Instagram and Twitter so that followers can share MuseumBums from home. We've had postcards, statuettes, posters, paintings, and even bookplates! It's amazing where you can find MuseumBums if you look hard enough!
We sell our distinctive emoji pin-badges. A portion of the sales go to charities (we are currently supporting Prostate Cancer UK, and The Terence Higgins Trust).