Jade Pollard-Crowe and Selena Scott spent February and March 2023 working on a project called Celebrating Black History in Cambridge as part of the University of Cambridge Museums' (UCM) ongoing work connected to the forthcoming exhibition, Black Atlantic: Power, People, Resistance (Fitzwilliam Museum: 8 September 2023 – 7 January 2024).
Funded by Arts Council England and Legacies project funds, they were each invited to create a visual resource for the public that would highlight stories about Black people in Cambridge that have been lost, hidden or buried over time. Jade and Selena were given free rein but discussed their ideas as they developed with Vicky Avery (Keeper of European Sculpture & Decorative Arts; and Internal Curator for Black Atlantic) and Wanja Kimani (Legacies Exhibition Project Curator) to ensure that these fascinating stories were relevant, engaging and future-proof.
Vicky caught up with Jade and Selena at the end of their internship to find out how they got on and to capture their journey for this blog.
For the benefit of our readers, can you tell us a bit about yourselves?
Selena: I'm a Cambridge-based artist who uses oil painting to navigate Black identity through the lens of trauma, racism, and colonialism. I explore themes such as afro-pessimism and prejudice, referencing their direct connection to colonisation. My practice extends to film, textiles, and animation, using narrative to shed light on the Black experience.
Jade: I'm a transdisciplinary arts-based activist and facilitator whose practice primarily encapsulates performance, film, drawing, printmaking and research. I've exhibited and collaborated with community organizations in Cambridge, London, Leeds, Sheffield and Vancouver, Canada.
Wow! You both have such fascinating careers. Can you tell us how you got into this particular project?
Jade: I'd had on-going engagement with the UCM as a contributor to the Colour: Art, Science and Power exhibition at the Museum of Archaeology and Anthropology (MAA), as a UCM Community Panel member, and in the Connections Through Collections initiative. Both community-based projects seek to examine and find workable sustainable solutions to the multitude of barriers that exist for many people  around accessing museum and gallery spaces. A thread running through both initiatives is legacies of slavery and empire in relation to museum collections and so the internship felt like a natural progression and wonderful opportunity to continue to engage with these vitally important issues via a different avenue. I have a passion for bridging the gap between communities and places of learning so that part of the project particularly resonated with me.
Selena: When I first saw the position advertised, I could not believe how fitting it was, considering my personal artistic practice. I had recently returned from completing some research about the legacies of colonialism and enslavement in Barbados, so having the opportunity to research Cambridge's Black history really piqued my interest.
Talk us through what you have been doing
Selena: Our first few weeks were spent learning about specific figures connected to Cambridge. I decided to choose the format of a colouring book as my 'visual resource', to make key stories accessible for a younger audience and create a playful way to engage with this vast but neglected topic of Cambridge history. I was interested in sharing a diverse range of stories, including both historic and modern people, so I decided to arrange the pages chronologically. I drew each figure based on known portraits of them, and chose to surround them by symbols or locations that referenced their identity. The hardest part was condensing the accompanying written biographical information since these figures have accomplished so much!
Jade: Like Selena, I began by looking at a variety of Black figures all of whom had links to Cambridge, but I quickly decided to focus on Abolitionist and author Olaudah Equiano given all the personal links he had to Cambridge and the surrounding area via his wife and friendship circle. This led me to create a zine full of conceptual reflections where I engage with historic and contemporary race inequality using the life of Equiano as inspiration.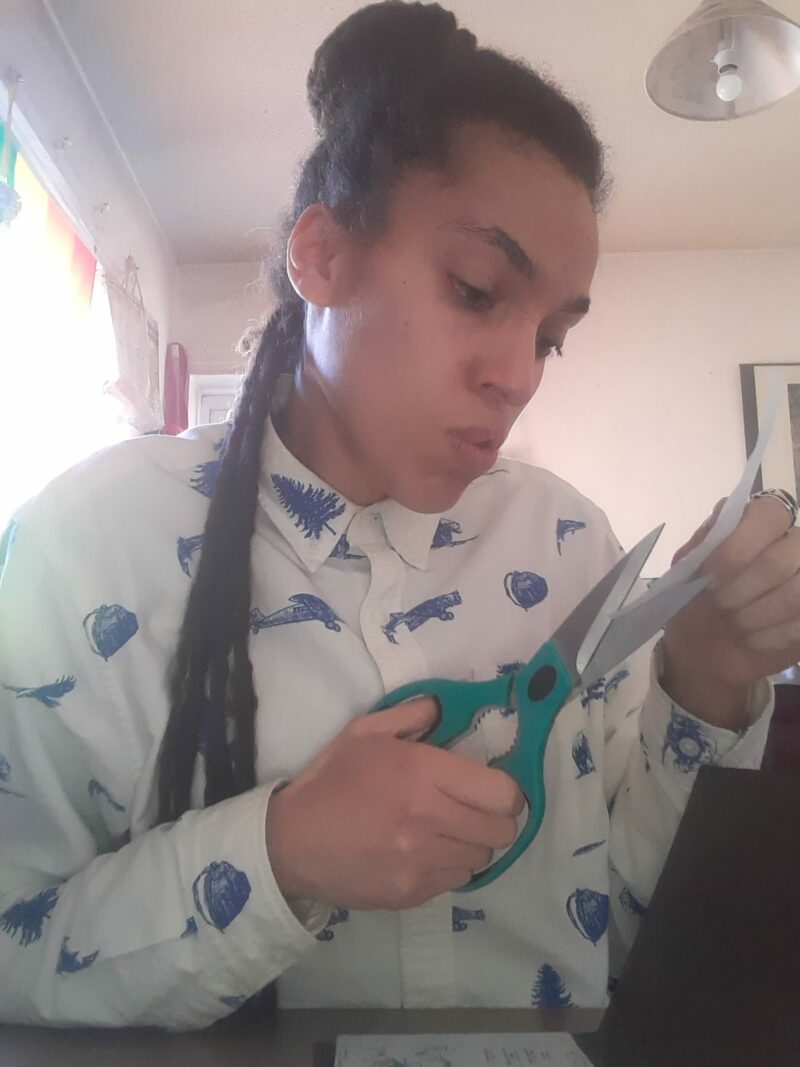 Why did you choose this course of action and what is your inspiration?
Jade: I've mentioned community quite a lot. I really felt that the medium of a zine could have a wide-spread appeal spanning a multitude of audiences. I also like the tactile nature of a zine, which I feel encourages engagement. Zines have always provided a voice for marginalized communities while allowing for creative expression not restricted to a particular way of working. The zine allowed me to interlace my own community and Equiano's voice throughout its pages.
Equiano has many links to Cambridgeshire and has already been celebrated by Cambridgeshire community groups thanks to the recent renaming of the bridge in Chesterton, so I feel he's a great hook to get people interested in considering the Black presence in Cambridge, and understanding that it goes way further back than the Windrush generation. My literary offerings are complemented by hand–drawn and photographic imagery. Equiano was born in Nigeria so all of the patterns and designs I've used were directly inspired by Yoroba and Igbo culture. White chalk is very important in Igbo imagery so features prominently and any experts out there will notice Uli, Akwete and Ukara. I was also really inspired by Equiano's portrayal of Africa pre-slavery. I feel this continues to be largely erased in the teaching of Black history so I've drawn inspiration from Equiano's autobiography where he writes about this. 
Selena: I was born in Cambridge and spent the first 19 years of my life here, but have sadly encountered many difficulties and prejudice directly connected to my race and identity along the way. I believe that better awareness surrounding Cambridge's Black history is vital in helping young Black people to tackle the same feelings I have experienced. Like Jade, I wanted to share these iconic figures and their stories, to show that the Black presence has been here for hundreds of years, and that this is simply the beginning. I hope my colouring book and its texts will inspire future generations, helping them know their potential for greatness and that it will help to continue the legacy of Black excellence in Cambridge!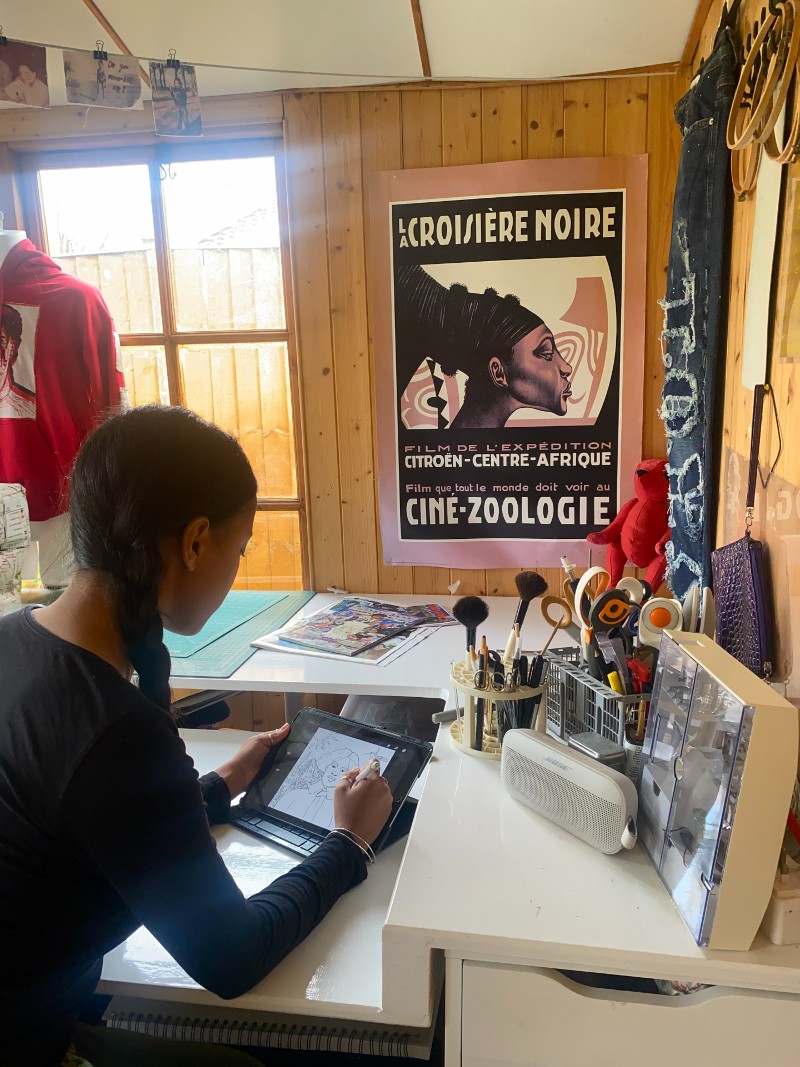 What have your learnt from your time at the Fitzwilliam Museum?
Selena: So much! Equiano was the only Black person with Cambridgeshire connections that I had heard of before beginning this internship, but I was unaware of his full range of his achievements. It was also revelatory to discover the inspirational stories of two Black women, Amy Ida King and Gloria Cumper, especially as they were both students at Girton – which is where I grew up. Having the opportunity to visit the archives at Girton College and look through related papers was incredibly moving and made me wonder how many more Black stories have been lost to time, and why some people's stories are remembered and told, and why others are forgotten or erased.
It was really wonderful to work together with Jade, and have input from Vicky and Wanja, and I feel as though we all learnt so much from one another. Our differences in perspectives and 'end products' were incredibly complementary; I could not have been luckier to collaborate with such lovely people. This project has been so exciting to work on and I cannot wait to see the upcoming Black Atlantic exhibition
Jade: I totally agree with Selena. As I highlight in my zine, local Black history has largely been absent in imaginings of Cambridge, so learning about the accomplishments of these important figures has been important for me; I've learnt such a lot that I wish I'd known years ago. I've been extremely fortunate to work alongside Selena and I feel our different focuses throughout the internship has been a real strength and I've enjoyed collaborative learning. I feel collaboration is always a learning curve and I'm beyond glad we were paired up together! I've learnt such a lot from the time spent with Vicky and Wanja and have enjoyed being given lots of background and context to the impressive curatorial work they're doing in connection with the forthcoming exhibition.
What are your aspirations for the future?
Selena: I hope to continue creating and developing. I would love to have more opportunities to share my work in Cambridge and around the world. I plan to continue my personal research, in turn uncovering more stories, transforming them into art to bring people together. I plan on working with Together Culture Cambridge as part of an exciting new project, as well as continuing my role as one of the founding members of Cambridge Black Creatives.
Jade: My Masters thesis was titled Making Place in Hostile Space: What are Limits and Radical Possibilities of Arts-based Activism Utilized by Queer Racialized Activists in Britain Today? I plan to undertake a PhD to further this research.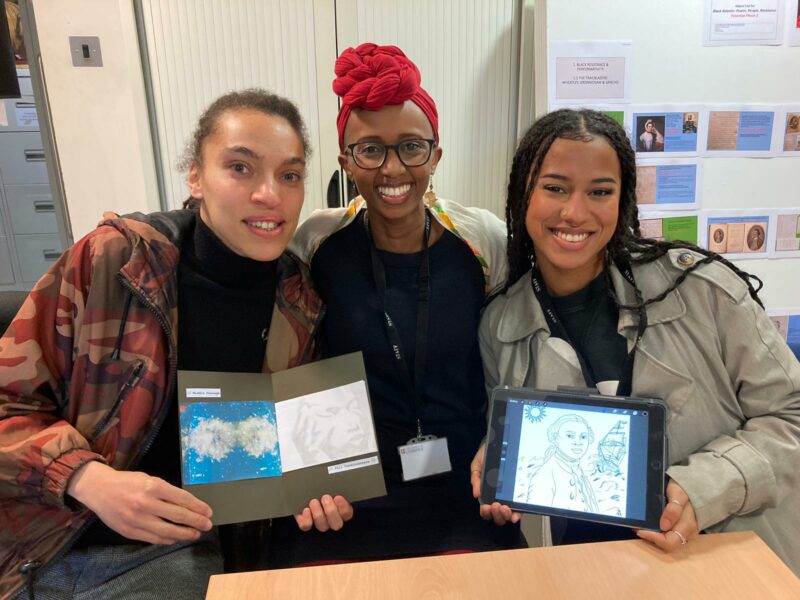 Clearly, Jade and Selena are two local artists to watch and we're hoping to get them back to the Fitzwilliam Museum to feature in a public event as part of the wider Black Atlantic programmes; we are also investigating the best way to get their zine and colouring book made publicly available. In the meantime, here's a sneak preview of a few pages from each, so you can get a flavour of what they've been up to.
Free digital colouring book-compressed
Thanks so much, Jade and Selena, for being up for the challenge and helping us to 'Celebrate the Black presence in Cambridge' so effectively – and good luck with the next steps in your careers!