At the Fitzwilliam Museum we are passionate about sharing great art with our audiences from their earliest years. Working alongside the Academy of Ancient Music meant that we could introduce great music too!
We were approached by the Academy of Ancient Music, who are the orchestra-in-residence at the University of Cambridge, to investigate the possibility of bringing art and music together as a new way to comment with our family audiences. A key aim of our Early Years programme here at the Fitzwilliam Museum is to give very young children authentic encounters with incredible artworks. The opportunity for them also to connect with professional musicians and some fantastic pieces from the baroque repertoire through our museum collections fitted perfectly with our approach.
We worked with Joanna Lawrence (violin) and Dawn Baker (double bass) from the Academy of Ancient Music. Jo came to observe a preschool session in the Museum and we spent lots of time together in the galleries thinking through various musical themes and connections.
We devised two different sessions aimed at older and young preschool children. The first was for babies (0-2 years): we introduced the instruments and responded to different styles of playing through simple movement games using large lengths of fabric.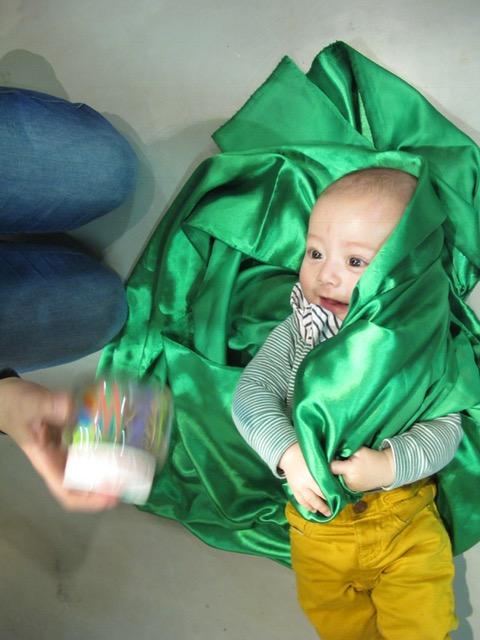 Musical peekaboo
Peekaboo is always popular with this age group. We all hid our faces under the fabric and peeked out on a musical cue. The same peekaboo game was played hiding and revealing museum objects in our ceramics gallery. The families were treated to a fantastic range of music by composers such as Bach and Vivaldi, and Biber's Sonata Representativa, taking its inspiration from the real sounds of animals, was a perfect match for the song birds, chickens and cockerels on display.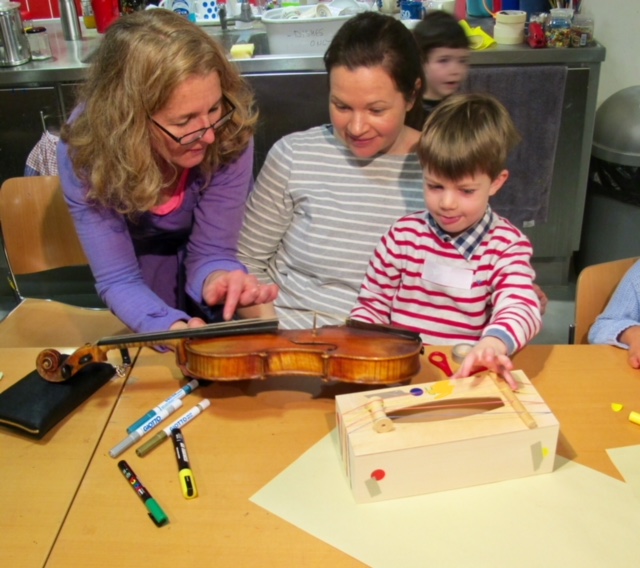 In the studio the babies had a chance to get up close to the instruments, and to create music alongside Jo and Dawn using percussion instruments. Some of us also made and decorated beautiful shakers. Filling them with different objects made different kinds of sounds, and creative use of paint pens, stickers and washi tape made them exciting for the eyes and the ears!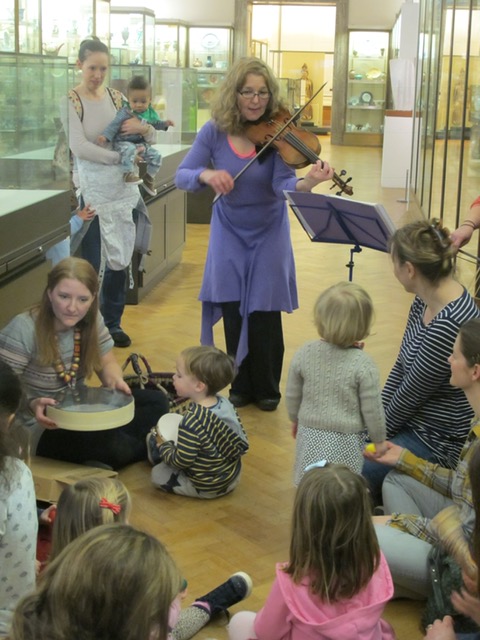 A unique orchestra
For the older preschoolers (2-5 year olds), we worked with the musicians to create a song that wove together some favourite objects from the ceramics gallery and some related music, including Castello's Sonata Concertante and the Sailors' Dance from Purcell's Dido and Aeneas. Watching the children's expressions as the music drifted its way around the objects on display was simply beautiful. The families were also amazed to learn that Dawn's double bass was older than the museum itself! It felt like an amazing privilege to hear the same instrument that people had been listening to over two hundred years ago.
Everyone made an instrument of their own as part of the session. Using wooden pieces hand-prepared by studio artists Alison Ayres and Nathan Huxtable, each child built a stringed instrument to take home. We compared the construction and sound of these with Jo and Dawn's instruments and all played together in a unique orchestra!
We absolutely loved working with the Academy of Ancient Music, and have lots more collaborative events coming up. The combination of art and music was a winning one for our families, and we hope to build further on this connections in the future.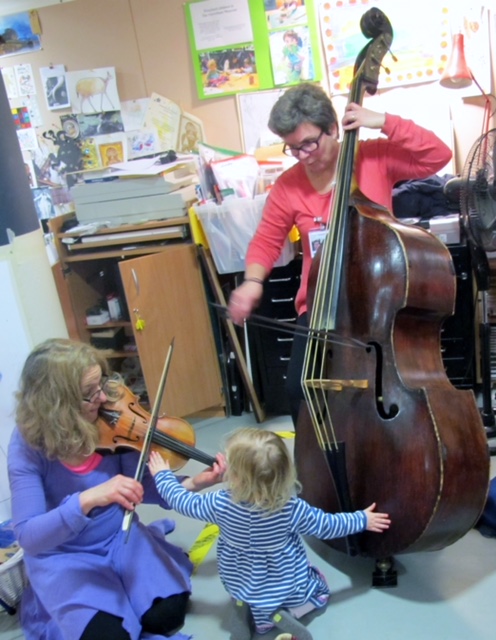 Feedback: 'What was memorable about today?'
'K watching and listening to the double bass – her face was magical.' (Parent of 1 year old)
'Two year old D got a chance to listen to some amazing musicians so close up and with such a personal connection.' (Grandparent of 2 year old)
'The music being played in the museum was very special. T's favourite part was making the instrument, he was really engaged with it! Thank you!' (Parent of 4 year old)
With many thanks to Joanna Lawrence and Dawn Baker from the Academy of Ancient Music and Alison Ayers and Nathan Huxtable from the Fitzwilliam Museum for studio support and photography.