At the Fitzwilliam Museum we try to develop programmes that help to create connections between our collections and visitors' current interests and fascinations. We have noticed that in our Early Years activities children are regularly drawn to artworks and play resources that relate to the natural world, so this became the focus for some of our workshops.
In the Autumn Term we ran three workshops for young children and their families:
Baby Magic for 0-2 year olds took French Impressionist artworks as its inspiration. We focused particularly on seascapes- singing nursery rhymes in French with lilting rhythms that echo the movement of waves on the seashore, and listening to the soothing sounds of the ocean drum. Through sensory play with shells, fabrics, wooden shapes, and scented fake flowers, the babies and their adults shared their preferences, opinions, and surprises as they watched, moved, felt, and listened together. These play activities in the gallery are different to experiencing nature directly, vital though this is for young children. Instead, they are approaching the idea of the natural world as it is represented by human-made objects that they can see and hear. And this is how even our very youngest visitors are participating in this year's overarching theme at the Fitzwilliam: Sensual/Virtual.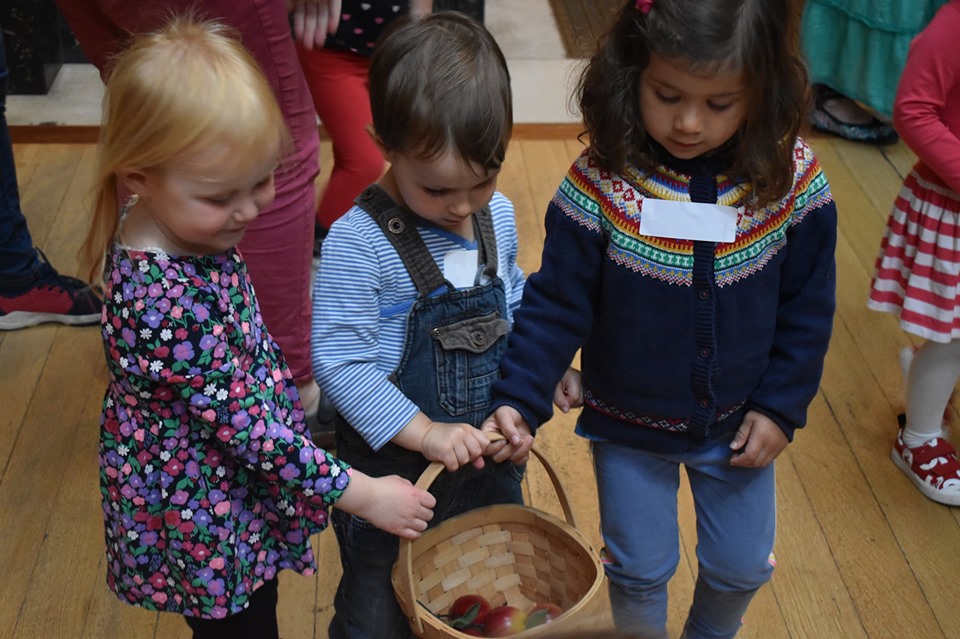 It's Magic for 2-5 year olds also focused on the Impressionist Gallery, using the paintings to create a new and unique story travelling from the seashore, through windy fields, wooded landscapes, dappled orchards and snowy scenes on a mission to deliver a basket of food to Grandfather. No wolves were encountered, but some of the food did get eaten en route….Thank goodness for Cezanne's apples and walnuts to provide a top up picnic!
Following both these gallery activities, the babies and children had the chance to experiment with wet-on-wet watercolour painting. This technique gives very satisfying results, enabling lots of exploration of colour and movement. The children and their adults relished the opportunity to get creative having been surrounded by so many inspiring artworks in the gallery.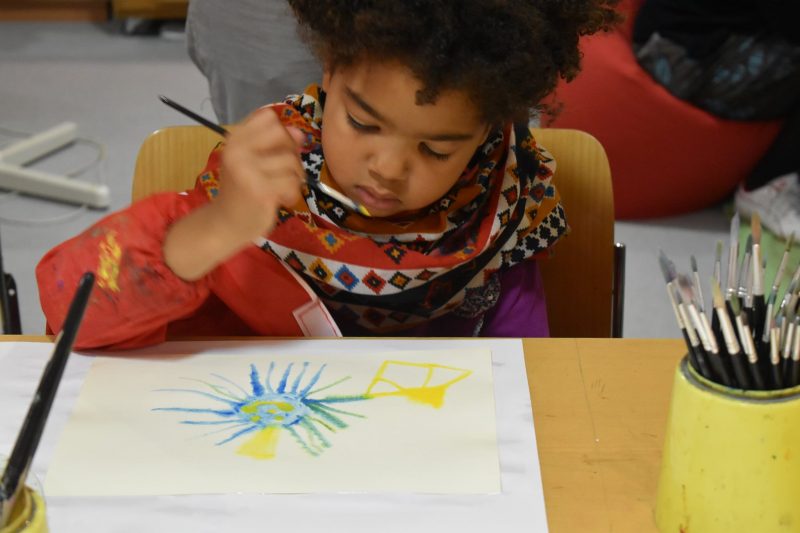 Our third workshop formed part of the University of Cambridge Festival of Ideas programme, which this year was exploring the theme of 'change'. We worked with Nicola Skipper from the Sedgwick Museum of Earth Sciences to create a workshop that built on sensory exploration to learn how rocks are changed by natural forces and also by artists. We spent time enjoying the marble in the Founders Entrance to the Museum, using handling objects to compare different types of stone.
Barbara Hepworth's 'Minoan Head' gave us lots to talk about from the point of view of how artists can shape stone, and Alison Ayres, Fitzwilliam Museum Studio Assistant, introduced us to a range of stone carving tools.
Back in the studio, families changed stones themselves by decorating them with paints. We were careful to source eco-friendly plastic-free paints so that if children wanted to return the stones to a natural environment, for someone else to find, for example, there would be no risk of adding pollutants.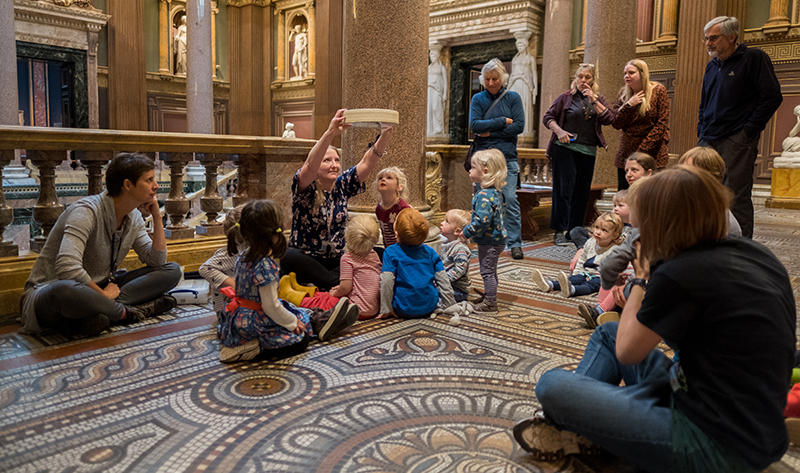 Families told us they appreciate having a variety of options for how to respond to the museum experience, and this is also interesting for us as practitioners as it provides a way for our youngest visitors to tell us what they enjoy and what they think, before they are able to tell us with words.
We can't wait to continue exploring alongside our youngest visitors as this year's Sensual/Virtual theme continues to develop. Keep an eye on this blog to find out how we experience the museum through food and through costume in our upcoming Early Years activities!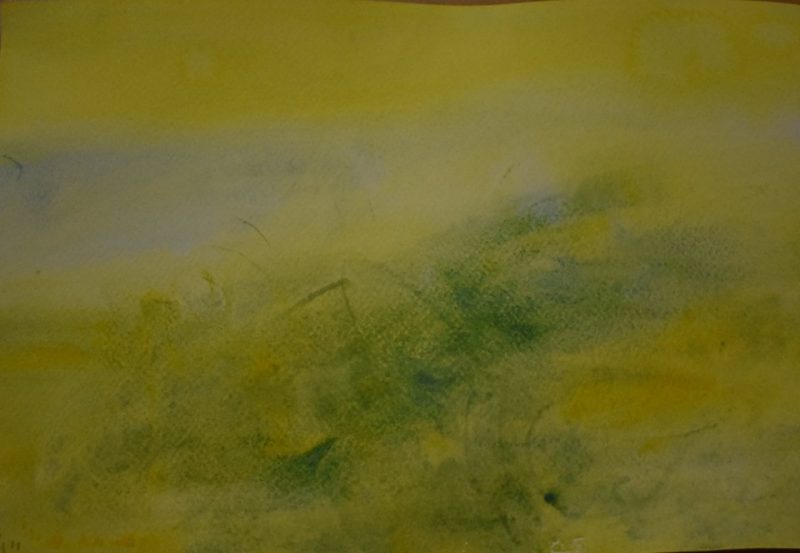 Feedback from visitors
In the meantime, here are some comments from families attending our most recent events:
What (if anything) do you feel you gained from this event?
"The chance to bond with my child in a stimulating environment and setting where we both able to appreciate beautiful art, meet lovely new people and learn new ways to play with and teach my child about art."
"I appreciated the way the facilitators worked with the families and enjoyed meeting other carers. I liked what was offered and gained an insight into the ethos of the museum in terms of their community engagement. This was very positive."
"My daughter learns that the museum is for her even though she is 3 years old."
What did you like most about the event?
"How helpful and accommodating the staff were and all the toys and painting equipment that children were able to use."
"I liked what was provided for play exploration- the materials, colours and sensory links to the art. I was really pleased by the quality of art materials offered- a real acknowledgement of the worth of these young artists!"