In January 2020 a group of Maasai activists and cultural spiritual leaders from Kenya and Tanzania were hosted in Cambridge by the Museum of Archaeology and Anthropology (MAA) during a two-week visit to museums in Oxford and London. The encounter between Maasai men and women and their ancestral artefacts was emotional for visitors and museum staff alike, but from pain and sorrow must come new relationships and a new way of working.
In 2018, the dramatic visit of a Maasai delegation to the Pitt Rivers Museum in Oxford was widely covered in national press as a passionate confrontation: a decisive moment in the work of decolonizing museums like the one in which I work. A little more than 12 months later, Samwel Nangiria and Yannick Ndoinyo returned with support of InsightShare and the Staples Trust for a follow-up visit to find out more about particularly contentious artefacts in Oxford, offer advice, develop a joint way forward, and to visit other significant collections of Maasai artefacts in UK museums, including MAA.
The Staples Trust had funded a researcher to do artefact and documentary research as well as photography of collections identified as "Maasai" in 2019, in preparation for the visit – a month of intensive work to catalogue and photograph 180 objects and where possible reconnect them to letters and documents in the museum archive. This gave us the opportunity to understand a collection that had not been engaged with for at least a generation. It is sad, outrageous even, that the material heritage of peoples across the world are held in museums far from their homes and their people, with few opportunities for reconnection. All too often, little is known of the significance of the artefacts for their owners, the circumstances of their acquisition European collectors, or their meaning for contemporary source communities. While museum staff and researchers have worked for decades to understand and renew these connections, time and resources are lacking to connect artefacts to every community. We are often dependent on stakeholders approaching the museum, although we wish it could be the other way around.
Enriching the catalogue data for 180 artefacts revealed extraordinary items, biographies of collectors (many of whom were engaged in some sort of colonial service or exploitation) and sometimes violent encounters between British and Maasai people. But there was little to suggest which objects would be of most interest to our Maasai guests, or indeed which objects might be considered contentious or controversial.
When we received a list of objects that the delegation wanted to see, we were surprised. There were bangles that the visitors identified as orkatar, the armlets passed between father and son and never sold or given away, which had been highlighted as the most troubling items in the Pitt Rivers collection. But other items listed included snuff boxes and a fire stick. Not the kinds of things we expected this group to want to see.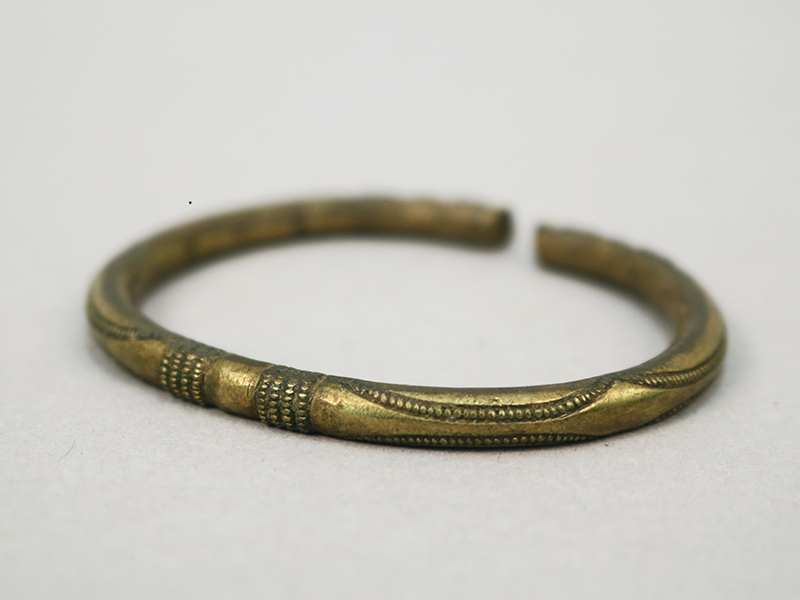 The start of something
The fire stick, with its hearth (the length of wood in which the stick was drilled, creating smoke), was preserved in the Museum's collections as an example of technology – a means of fire-making. When we gathered around to look at it with our Maasai visitors, however, it became something else. Known in Maa as orpiron entoole, these two pieces of wood were described as the foundations of the age set system in Maasai social life: they would be used by an elder to create the fire that was central to one of the key rituals in the initiation of young men – these are sticks that made social connections possible. While we may have looked at it as just two sticks, for making fire, our Maasai visitors saw that it was so much more. Fire sticks would have been re-used, with new soot-dark holes bored at intervals along the hearth when the old ones had worn out. This was a significant object. Our visitors were not uncomfortable with it being in a museum collection in England, but they were frustrated that our knowledge of it, and therefore the stories we tell others about it, was so limited.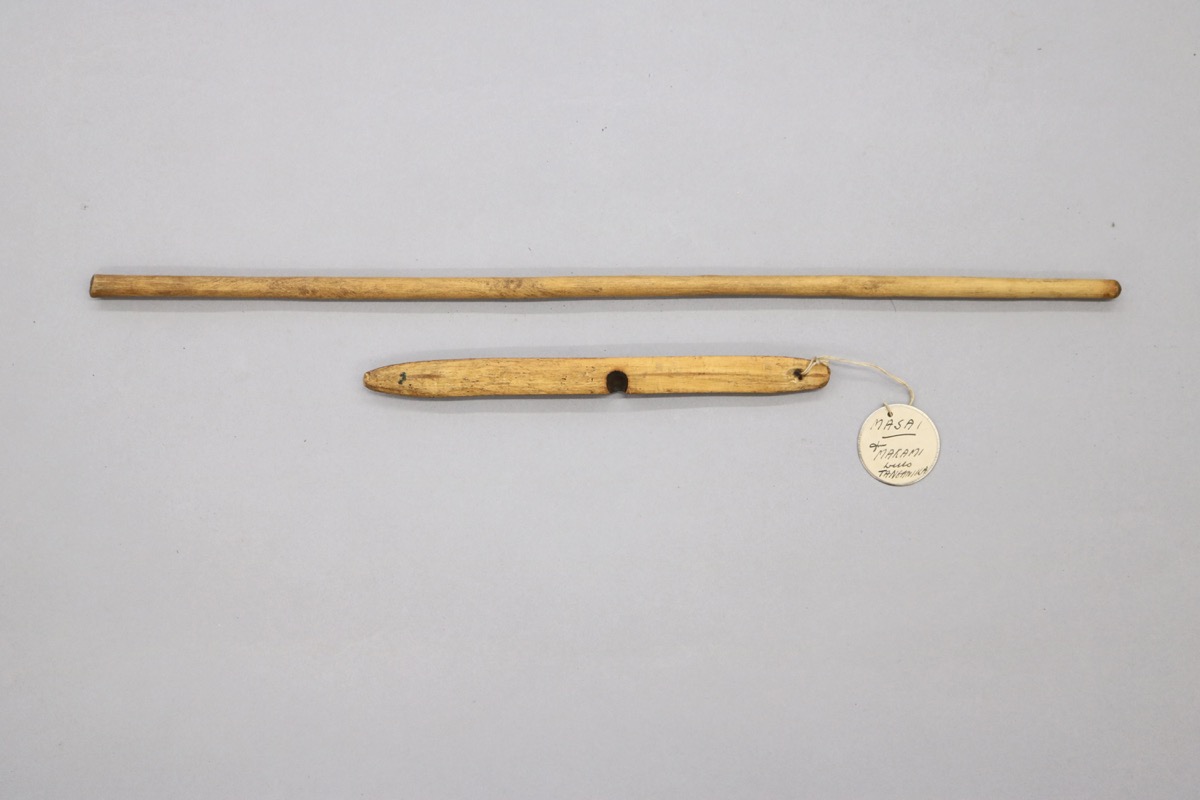 Harrowing legacies of violence
The objects we looked at together led to extraordinary conversations and, as often happens in such contexts, relationships were being built around the table as we exchanged questions and stories about the things in front of us. At our visitors' request, I then brought out the orkatar. The atmosphere immediately changed and thickened. The visitors were shocked to see them. We had shared images and information about these and all the other Maasai artefacts in the Museum, but seeing them laid out on the table in front of them was clearly horrifying. Each of the armlets represented the death of a Maasai man, a warrior, and the end of a lineage. Because these are passed down from father to son, and never given away or sold, the social ties between generations had been severed. Our guests were certain that there would be six families in Kenya and Tanzania whose lives had been difficult since the death of these men and the failure to pass these armlets on. These objects would never have been given, should never have been taken, and should not be in a museum collection so far away from Maasai people.
Tense discussion followed between the members of the delegation and the session ended. It was just too hard to keep going. The following day, on Friday, it was clear that more questions needed to be asked to find out from whom, and in what circumstances, the orkatar had been taken. The delegation's objective in visiting Cambridge was for Lemaron Ole Parit, son of the Maasai Laibon (spiritual leader) to carry out divination on the problematic objects in a space that he had consecrated for the purpose in Oxford. We all agreed that the six orkatar at Cambridge should be put through the same process. But that meant they had to go to Oxford immediately, because the divination was planned for Sunday. Normally it takes a long time, multiple permissions and extensive paperwork for artefacts to travel between museums. As custodians of valued heritage objects, museums must follow strict procedures which can be barriers to the mobility of collections. This time, the presence of curatorial and collections staff from the Pitt Rivers Museum, and the long history of collaboration between the museums in Oxford and Cambridge, allowed us to come up with a rapid solution. The next morning, following permission from the Museum's governing body, the orkatar were packed into a suitable travelling case and driven to Oxford. I followed that evening, and on Sunday morning found myself in the Director's office at the Pitt Rivers Museum, asking the Maasai ancestors to tell us what had happened to bring the objects to Cambridge. Each one had come from a man from a different Maasai group, killed by British soldiers in battle, in his home, or while tending cattle.
Museum professionals are all too aware of the harrowing histories of conflict, colonialism and exploitation that have produced the collections we care for. While there is perhaps little we can do about the objects' histories, we can help to ensure that the present and future of the objects and the people to whom they belonged, are better. This is not a quick or straightforward process. Even if ownership is set aside, there are often questions of where or to whom artefacts should return, which are not for us to answer. Perhaps a physical return of artefacts is wanted by the communities or nations from which they came, but perhaps there are other ways forward. Collaborating on research, for example, or collaborating on developing appropriate ways to care for and store artefacts that are here and require special attention, or indeed finding new ways to make collections and their stories accessible to more people. Complexity is always there, and makes things difficult, but it is not a reason for inaction.
In the aftermath of the visit, the focus is on these possible futures for the collections and the people implicated in them. With initial contacts made, the challenge for us all is to expand and deepen engagement with implicated communities. We continue to work with our new Maasai friends on what could and should happen to the objects, and conversations are continuing through a project called Rethinking Relationships, funded by the UK Government's Department of Culture Media and Sport, where MAA, the Pitt Rivers, World Museums Liverpool and the Horniman Museum are working with researchers and institutions in Kenya and Nigeria to find new ways of respectful, inclusive and collaborative working with collections. There is more work to be done and other voices to listen to, but as we respond to the need to make the collections we care for more accessible to ourselves, our students and our stakeholder communities, we must share hope that the futures of these objects will be better than their pasts.